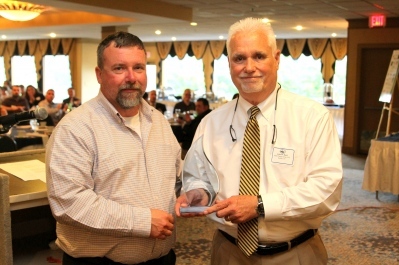 MLBC Past President, John Kimbleton (left), presenting Judson Byrd (right) with the J.W. Findley Lifetime Achievement Award in June 2017.
---
J. W. Findley Lifetime Achievement Award


The J. W. Findley Lifetime Achievement Award was named after the organizer of the inaugural MLBC meeting held on July 17, 1959, and the organization's first President. The award is the highest and most distinguished honor of our association. The award was established to recognize an MLBC member who has demonstrated excellence and integrity in contributing to our association and our profession.

2017 Judson K. Byrd, CPL
2016 Richard K. Elswick, CPL
2015 Arnold L. Schulberg, Esq., CPL

---
Friend of MLBC Award


The Friend of MLBC Award is intended to recognize a company or individual that has made significant contributions to the betterment of the MLBC in any way deemed worthy of recognition.

2017 Honor Resources
2016 EQT Corporation
2015 Steptoe & Johnson, PLLC

---
Best Member Communication

The award for Best Member Communication was established to recognize the best single communication by an MLBC member during the prior calendar year. The communication may be to the MLBC, to AAPL, or to the industry but must pertain to the land profession. The individual must be a member of MLBC for his or her entry to be considered.

2017 Jeremy Preston, RPL for "Message in a Bag"
(Takeoff Newsletter, October 2016)

2016 Paula Fleming, CPL for "Ethics – What's For Dinner?"
(Takeoff Newsletter, December 2015)

2015 Douglas Richards, CPL for "Ethics – The Cornerstone of Professionalism"
(Takeoff Newsletter, April 2014)